Jun. 1st, 2019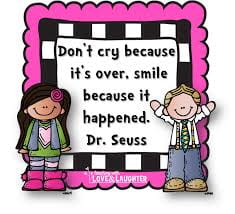 Dear Parents,
Only 4 more weeks of Grade One! Where has the time gone? Wow! Your children have grown so much. I am so proud of all their learning!
Academics :We continue to improve our skills as readers, writers, and mathematicians.  I will be doing final assessment pieces and finishing off projects with students over the next few weeks. Report cards will be available on the 28th via Powerschool.
Dates to Remember!
*Please remember that Snacks, Milk and Pizza are completed for the year.
June 5th- Last Library Day (All books in please)
June 7th – Town Walk Field Trip (Be prepared for the weather)
– Book Orders Due (So I can get them back to you before the end of the year):)
June 12th – Le Chocolatier and Benchlands Hike (Afternoon)
June 14th – Summer Games (Half Day for students)
June 20th – Harvie Heights Field Trip
June 28th – Last day of 2018/19 School Year. Grade 3 Farewell. Half Day.
Summer Holidays Begin!
I'm sure I will be able to get to talk with you all during this last month, on field trips, etc, but if not, thank you for all of your support and hard work with your children this year. I am so proud of all the things they have accomplished. They are well on their way to be great members of our community. I look forward to seeing them around town this summer and around the school in the fall.
Happy Summer!
Love 🙂 Mrs. W.